Get the Latest on Community and Economic Development
in Brian's New Book: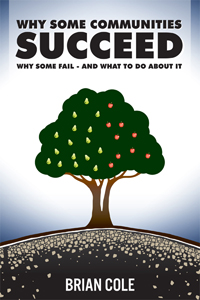 When it comes to creating jobs and improving local quality of life, some communities succeed and others fail. But why? What explains this? Many previous answers to this question have been largely subjective. In his new book—Why Some Communities SUCCEED, Why Some Fail, And What to Do About It—Brian offers a clearly objective analysis of these questions... read more
Economic Development Speaking and Conference Presentations
One of the top priorities of any conference is to leave the conference participants inspired to do their jobs better than ever.
With over 25 years experience in the field of community and economic development, Brian Cole, the founder of Building Communities, has a wealth of practical first-hand knowledge of the day-to-day opportunities and challenges facing economic development professionals.
Brian offers a host of topics that are ideal either as a keynote presentation, workshop discussion— or both.
For each of the sessions, two tables are shown. The four-quadrant table shows four letters: K, W, S and R to denote the type of presentation (Keynote or Workshop) and pre/post conference activity by Building Communities (Survey and Report)
K: Content suitable for a keynote presentation, offering a broad, high-level message
W: Content tailored for a workshop/breakout session
S: Pre-event survey can be administered, with results presented at event
R: Post-session report immediately delivered later at the conference
The linear chart shows the type of content on a continuum. On the left side are presentations that are objective, factual, nuts-and-bolts messages. On the right side are presentations that are more subjective, visionary and motivational.
---
1 - Measuring Economic Development Capacity
While it is obvious the capacity of communities to successfully implement community and economic development activities varies from one place to another, it has never been possible to objectively score this capacity—until now.
Brian Cole has developed a tool that immediately allows city managers, county commissioners, and economic development professionals to score every factor critical to community and economic development success.
In this session, participants will score themselves, while being guided by a careful progression of questions that focuses only on the factors that clearly relate to a community sitting still, fighting with itself or making meaningful progress.
---
2 - Effectively Selecting Economic Development Strategies
Cities and counties have a menu of 25 community and economic development strategies to improve their economic condition and enhance their overall quality of life.
In this session, participants will not only become familiar with these strategies, but they will learn about a methodology to objectively select them—and fast! It is not just about business recruitment anymore, it is about objectively selecting from a menu of 25 strategies the ones that best fit any given community.
The presentation will be given by the economic development professional who invented this strategy selection process that is currently being used by more than 50 communities across the United States.
---
3 - North Dakota: The Anti-Recession and What Economic Developers are Doing about It
In 2012, Brian Cole spent 74 nights in North Dakota motels—and partially completed sub-divisions and oil industry crew camps.
The Bakken Oil Boom is redefining the role of the economic developer and community volunteer in western North Dakota.
In this session, Brian summarizes why this is happening, what communities are doing about it and the challenge that remains for the industrious and generous people of North Dakota who have a once-in-a-lifetime opportunity to create America's most vital, thriving—and livable?—cities.
---
4 - Aligning State Strategies and Policies
How can a state be sure that its economic development policies are congruent with its economic development potential and strategies? Are such policies and programs working for or against the state? What should the governor and legislature focus on in the upcoming session?
All too often economic development policies and the funding of programs are done with political—rather than practical—motivation.
Building Communities brings the first-ever objective analysis of the 100 factors that contribute to—or inhibit—a state's economic development potential or success. Conference attendees will learn that only 40% of the factors can be controlled by politicians and other policy makers.
For state and local economies, it is all about controlling the right controllables.
---
5 - Why Some Communities Move Forward; Why Others Do Not
Why is it that some communities seem to stand still while others implement community and economic development projects like clockwork? Why do some communities just seem to fight, while others get along and prosper?
This answer has been discovered, and it is explained by the Four Stages of Civic Condition Model that forms the basis for the nation's fastest-growing economic development strategic planning company.
The founder of the strategic planning process will engage you in a thought-provoking presentation that will either explain why you succeed at virtually everything you do, or why it just might not all be your fault that your community seems to stand still.
---
6 - The Community Personality Test
Ever stood in line at the grocery store shaking your head at the ridiculous magazine headlines? Ever secretly wanted to take one of those personality tests advertised just above the black plastic that hides the racy garbage below? Well, you've come to the right place!
Now you get professional justification for indulging in such a test!
This session provides an entertaining, and often sobering, look at the underlying dynamics—the local politics—that form the basis for community advancement, or the lack thereof. Session participants will take the test, and then receive their individualized community personality reports.
Find out if your town is the best looking boy/girl in the room, or the one destined to be passed by.
---
7 - Community and Economic Development: The View from the Moon
Some people like the 30,000-foot view. In this presentation, Brian Cole takes you to outer space with the 1,261,150,000-foot view: local and world economics, as seen from the moon.
Does watching national and world economic events fascinate you but leave you feeling out of control? It should. Ever wonder if there is something in the local soil that ultimately controls if and how your community develops? There is. Ever seen the two-fruited tree over Kansas that describes everything you can control? You will.
No one else sees local, national and world economics like Brian Cole. While it may seem out of this world, or at least a bit strange, you are guaranteed to see your role in shaping your community in a whole new light—the light reflected off the sun by the moon. Your spaceship is now boarding.
©2017 Building Communities, Inc.