Base Closure Planning / Base Realignment and Closure (BRAC)
The Base Realignment and Closure (BRAC) process means different things for different communities. For some, it is an intensely disappointing time of losing jobs and being concerned  about the future. For others, it represents an  inevitable period of transition  but the path forward may not be clear. For still others, it is an opportunity to positively reuse land, infrastructure and buildings for purposes that are consistent with the strategic direction of the community.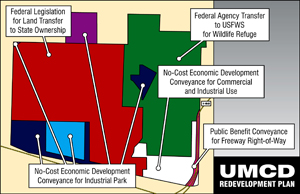 Whatever the situation may be, the BRAC process is an opportunity for a community to perform a strategic assessment of its situation and to move forward to a new day—the perfect condition for a very effective Building Communities-based economic development strategic plan.
Because the BRAC  usually  is a is very robust process in terms of scope and duration, Building Communities is typically only a part of a team carrying out the work. Our organization  brings expertise in environmental planning, land-use planning, engineering and design, structural analysis, organizational development and several other disciplines. Building Communities can be the prime contractor, coordinating the entire effort, or a subcontractor. Either way, we believe our planning should come early; setting the course for the community to work with the BRAC process in a very proactive, constructive way.
The very first Building Communities Key Success Factor Analysis was performed in Oregon for a collaboration of two counties, two port districts and one tribe seeking to reuse the Umatilla Chemical Depot. The installation and land , once used  for the storage of nearly 10% of the nation's chemical weapons, sits at the intersection of two interstate freeways and includes  hundreds of structures. The land is also important to the Confederated Tribes of the Umatilla Indian Reservation. By using the Building Communities process, the top reuse strategies arose almost immediately, setting the stage for the efficient positioning of other engineering and environmental studies.
Changes to the future demands on the U.S. military will always place a need for the BRAC process. Building Communities can be a part of this process for military bases across the nation and world. For communities and BRAC-focused consulting firms, Building Communities is ready to provide a competitive advantage to effectively envision the future.
©2017 Building Communities, Inc.